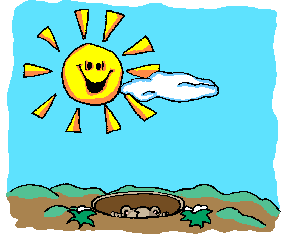 January
seems to have flown by! We have a very full three weeks ahead before Family Day. February 2nd

is a P.D. day for the teachers and a no school day for students.
Groundhog day is on Friday, February 2nd this year. We will be talking about and working on groundhog activities this week. Also, the 100th day of school falls on February 15th. I have sent a note home about the 100th day hat that students will create at home (sorry!!). Finally, we have our Valentine's Day celebration on the 13th. Our room-rep will be contacting some of you about supplying allergy free snacks for a small celebration that afternoon.
As always, please contact me with questions or concerns (or to give me a gentle nudge about something I've forgotten to update on the blog or on Spelling City!!) at
beaudinp@holyspirit.ab.ca
. Thanks again for being so cooperative to work with and for being positive in your feedback! I love learning along with your children and it is a bonus that you are such great parents to work with.
Dates to remember:
Jan 31 - Jersey Day
Feb 2 - Groundhog Day
Feb 2 - Professional Development Day - no school for students.
Feb 6 - Grade 4 Toy Sale (If interested, please send money with your child.)